Message from the President
Pliant's origins date back to 1979, when the founder, Misako Hashiguchi, joined Yasuda Fire and Marine Insurance as a trainee. Nowadays, both men and women can play an active role in the non-life insurance industry, but at that time, even joining the company as a trainee was not easy for a woman. At her job interview, she was requested to bring her husband, who was asked, "Do you really want to let your wife work in the man's world of non-life insurance?" Moreover, even though she was allowed to enter the company as a trainee, her starting salary was only half that of her male counterparts since it was not clear that a woman would be able to perform at the same level. One year and three months after joining the company, however, Misako Hashiguchi graduated from her training with the highest scores nationwide of all the trainees in her class. Then, in 1981, at the age of 33, Misako Hashiguchi singlehandedly established Hashiguchi Non-Life Insurance.
That was 39 years ago. Simply possessing the "softness" of a woman will only go so far in a male-dominated world, and what has enabled her to thrive is a "softness with a strong core" that, like a pliant bamboo tree, points straight up while enduring the wind and snow.
The company name Pliant signifies the value we place on the way of life of the founder, Misako Hashiguchi. Currently, in addition to the insurance business, we also operate a restaurant business and a Chinese business consultancy, but in every business that we are involved in, our aim is achieve further corporate growth with the "pliancy" of the founder as our basic principle. I firmly believe that when employees come together to engage in corporate activities that are "soft and pliant, but with a strong core", this will open up a rugged yet straight path that leads to the company being selected by customers and by the community.
We will continue to move straight ahead, stubbornly honest, on this path. We thank you for your continued support and guidance.
Hisashi Hashiguchi
President and CEO
President & CEO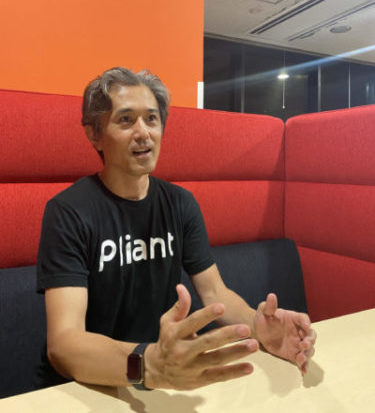 Hisashi Hashiguchi, President and CEO
Born in Sasebo City in 1972, Hashiguchi lived in Sasebo until the age of 18 and in the US for 4 years from the age of 20. After returning to Japan, he became the director of a Japanese language school based in Tokyo, a position that expanded his range of activities to China, Hong Kong, Taiwan, South Korea, Thailand, Bangladesh, India, and other east Asian countries. At the age of 33, he returned to his hometown, Sasebo City, and joined Pliant Inc.
Since formulating the corporate guidelines in 2009, Hashiguchi has formulated the corporate guidelines and hosted the management plan presentation every June since 2010. He continues to work on implementing management plans that go beyond the boundaries of a conventional insurance agency through a commitment to a wide range of internal and external projects such as a collaborative walk-in insurance shop and coffee shop business and expansion into the Chinese market.
Hashiguchi also actively promotes diversity and the inclusion of all people regardless of age, gender, nationality, or physical characteristics in all businesses, no matter how small, and has given numerous talks on small and medium-sized enterprise management and SME diversity management. His hobby is jogging during business trips.
Interviews and Talks
Nagasaki Shimbun: Nagasaki No Nobishiro (Aug 2020)
https://www.pliant.jp/7282 (News Article)
Nagasaki Shimbun: Top Interview (Jan 2020)
https://www.pliant.jp/4360 (News Article)
Diversity Management Strategy Seminar, METI (Aug 2019)
https://www.kyushu.meti.go.jp/seisaku/jinzai/kaisaikekka_190821.pdf
Agora Genron Platform (Jan 2019)
http://agora-web.jp/archives/2036776.html
National Conference of the Association of Small Business Entrepreneurs: Our Company's Management Philosophy (Dec 2013)
https://mgz.doyu.jp/touring/131218-170028.html
HASHIGUCHI Bike & Run (Instagram)