Corporate Philosophy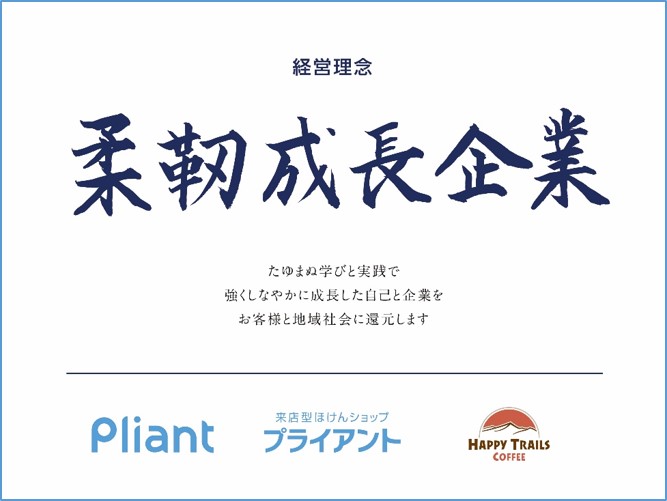 10-Year Vision (established in 2017)
A company that promotes awareness in the world (What we will take for granted in 2027)
Pliant aims to be "a company that promotes awareness in the world" through the strong, flexible growth of the self and the company. For a small business based in Sasebo City, Nagasaki, "the world" may seem like an over-the-top expression, but it is not. Until now, we have relied on a centrally-based economic structure while holding up a locally-based structure—i.e., "local production for local consumption"—as an ideal. From here on, however, no matter how rooted in the local community they are, businesses will not be able contribute to society unless they are connected to the larger world. Through our corporate philosophy, we aim to contribute to the happiness of people around the world by providing "new realizations" and "values that go one step further". Our "10 Year Vision" is not a goal to be achieved in 10 years, but rather a picture of what we will "take for granted" 10 years from now. Therefore, from the first year, the puzzle pieces of this 10 year vision have already started to come together.
Business Divisions: Mission
Insurance Division
Making "peace of mind" simple, turning "peace of mind" into "vitality"
HTC Division
We aim to create an American style coffee shop where customers can enjoy good food and drink in a relaxed, comfortable and at-home atmosphere.
International Division
Knowledge and action are one and the same. Pliant is your partner.
General Affairs Department
No ES (employee satisfaction), no CS (customer satisfaction)!